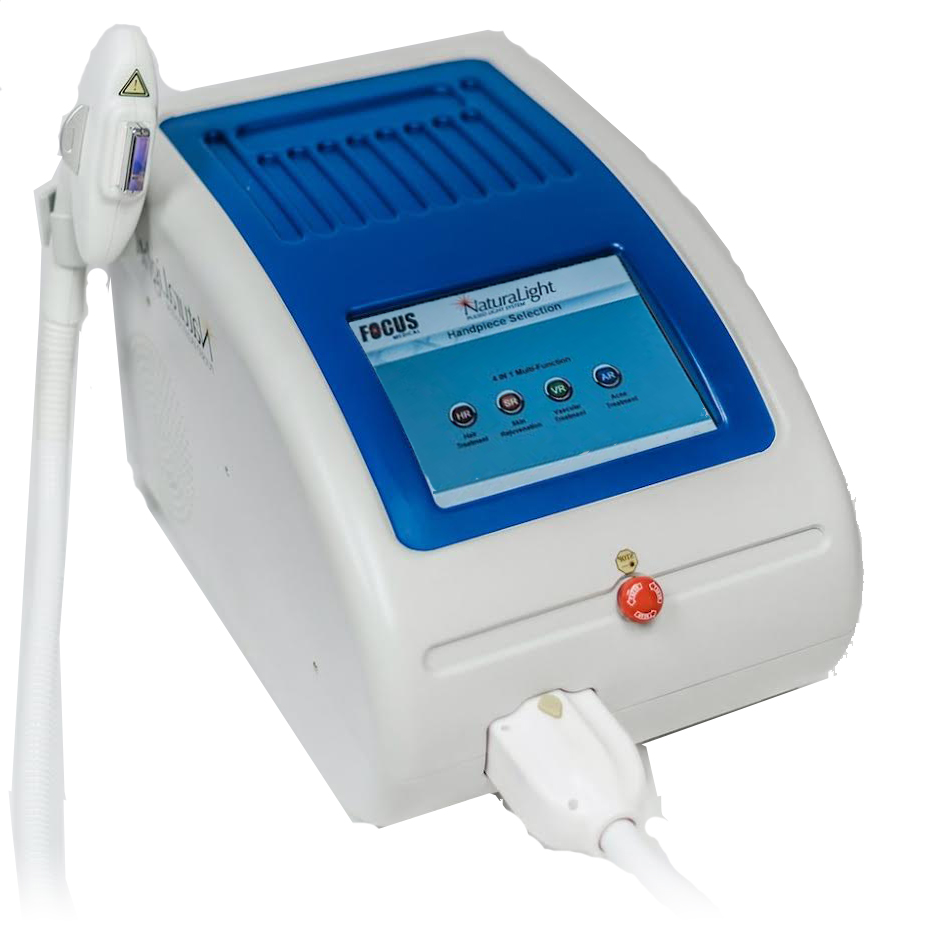 With the NaturaLight IPL, you will be able to address your clients' top concerns: Hair Removal, Skin Rejuvenation (dark spots/sun spots), Acne, and Vascular Treatments. The NaturaLight IPL is versatile, effective and economical.
All treatments are performed with the same handpiece – you simply switch the filter to perform a different treatment. Treatments are fast and safe. The system is easy to use. It features a touch screen with programmed parameters. The operator simply selects the target (hair, acne, pigment, vascular) and the client's skin type. The system will display the safest and most effective settings. Of course, presets can be adjusted manually if the operator desires. The system has built-in cooling, both to protect the clients' skin and to ensure that the treatment is comfortable. The NaturaLight IPL comes with a cart, so it can be moved easily around the office.
The NaturaLight IPL was designed by experienced scientists, as well as by medical and cosmetic professionals, for a practitioner committed to providing the safest and most effective skin treatments to their clients. Focus Medical's technology and customer service cannot be surpassed.
Applications
Hair Removal
Vascular Treatments
Acne Treatments
Skin Rejuvenation (brown spots)
Benefits
Consistent, impressive results
Comfortable treatments
Fast treatment time
Touch screen with automatic parameters for ease-of-use
Quick and effortless transition between applications
Low after-market costs
The Manufacturer
Focus Medical (Bethel, CT) has developed a line of best-in-class aesthetic lasers and light-based devices marketed under the NaturaLase and NaturaLight brands. Focus Medical specializes in lasers for hair removal, wrinkle reduction, vascular lesions, and other cosmetic treatments. Focus Medical's engineering and technology emphasis has produced systems that lead the industry with superior performance, higher energies, and better ease of use. Focus Medical thrives in its role as a customer-focused, technology-leading laser manufacturer.
Focus Medical's headquarters are located in Bethel, Connecticut where all the products are designed and manufactured. These products grow out of an effort to understand the application, their customers' needs, and patients' desires.
Specifications
Energy Density
Up to 50 J/cm^2
Dimensions
35 X 45 X 26 cm